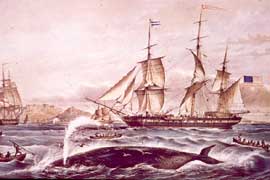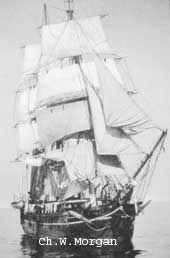 One of the best known whaling ship is the Charles W. Morgan. She is displayed in the Mystic Seaport Museum (USA N.E. coast) and is shown in illustration of many books on whaling. The Charles W. Morgan was recorded in October 1847 in New Caledonia waters. She had a length of 32 m and was launched in New Bedford in 1841. She became rigged with three masts in 1867. She worked during 80 years. The last American whaler, the Andrew Hicks, was sold to become a merchant ship in 1917.
Whalers in New Caledonia
American whalers were dominant in the South Pacific. They arrived in New Caledonian waters 60 years before France took possession of New Caledonia. Whaling was mostly concentrated around the Chesterfield reefs West of New Caledonia and, to a lesser extent to the North of Grande Terre and Loyalty islands.
The first American whaler to come in New Caledonia waters was the Britannia in November 1793. This ship would have discovered the island named then Britania, and today known as Maré (Loyalty Is.). In 1806, this 300 tons ship grounded on the " Elisabeth reef " located North of Lord Howe.

About fifty American whalers (identified by Robert Langsom from their log books) have been recorded in the region (Grande Terre, Loyalty Is., Walpole and Hunter) between 1793 and 1887. They were particularly hunting there between 1835 and 1860. The Chesterfield reefs are not explicitly mentioned in the records but perhaps they were not considered as being French (France annexed them on 15th June 1878).

In general, whalers were in New Caledonia sea between July and December with the peak season in August and September. However the William Hamilton, which came in 1839 and 1841, was there in February and March. This whaler rescued some European sailors and Father Channel assistants after this priest murder in Futuna, on 27th April 1840.
American whaling ships ceased to come in 1887.
French whalers
French whalers started to hunt in Oceania from 1830 until the end of the XIXth Century.
The Gustave, a 480 tons ship armed in the Havre in 1835, had a successful hunting season in 1862 in the Chesterfield area. She came back in 1863, but her hunting then was not successful. She hunted in New Caledonia, in the Arama area, hoping to find whales between Balabio island and the Grande Terre, without success. The onboard surgeon described this sojourn in his journal. The Gustave was badly damaged in the Okhotsk sea and had to be sunk in Tahiti on 15th January 1866.
The Winslow worked together with the Gustave during several weeks in 1863. Year before she caught 21 whales in 3 month NW of New Caledonia. A 637 tons ship, she was built in Paimboeuf and launched on 12th April 1852. She was not the biggest whaler built in France but probably the one receiving the most numerous improvements. She was the last French whaler to come back to the Havre. On 20th May 1873, she was sold to Scandinavian shipowners.
Whales in New Caledonia sea
New Caledonia was rather outside the main whales concentration areas. The main whaling zones in its Economic zone were the Chesterfield, Matthew island, Walpole island and to a lesser extent the Loyalty islands, the North of Grande Terre, the Isle of Pines. Two main large whale species were found there the killer whale and the humpback whale.
Killer whales were often seen in the XIXe century along the Grande Terre coasts. In 1935 the daily newspaper "Bulletin du Commerce" of New Caledonia publishes several times articles about grounded sperm whales. This seldom happens nowadays.
The right whale which came to die in Prony bay in 2002 is highly unfrequent around New Caledonia.
Whalers' impact on Melanesian population
Whale processing (cutting and melting their fat) was carried-out at sea. Whalers touched land only for supplies, water and wood. However they could rest in New Caledonia during the winter off season. This is why Paddon installed stores to supply whalers in Hienghene, Poum, Balade, Balabio and Anatom (New-Hebrides archipelago).
Sailors often deserted because crews had little motivation (sailors were often forcefully "recruited" in ports bars), hunting campaigns were long lasting and work was very hard. Desertion could lead to European settling in some places. It seems that they were not frequent in New Caledonia. However some sailors from whalers retired in Maré and Lifou and in the North of New Caledonia. They had descendants. In addition several whalers were wrecked on New Caledonia coasts (see also Shipwrecks in New Caledonia) and some surviving sailors may have settled there.
Recruiting to complete or replace deserting crews had probably also some impact. This occurred in Fiji, Tonga, Samoa, Futuna, but no record was found in New Caledonia.
The whalers impact on natives has consequently been real but of limited extent. Its effects are mostly in the north of Grande Terre and in the Loyalty Islands. But whaling left a much less important impact than the sandal wood merchants whose trade led to a drastic technological change for the Melanesian people.
Whaling history
The Basques people are the first known whale hunters. They established a whaling station in Labrador as early as 1536. However whaling started more likely much earlier by coastal populations, Basque certainly but also the Vikings, some Indian tribes in North America (Makah, Nootka, Nuu-chah-nulth) and Japanese people. In the XVIIe century major sea countries England, Scotland, Holland, recruited them at high price. Basques hunting was done from small boats using hand-thrown harpoons. In the XVIe century Japanese people were catching whales with nets after pushing them towards coastal areas for getting them in shallow waters as nets were not going deep under water.
From XVI century and in XIX century whale oil was mainly used for making soap. This market collapsed in the XIX century as less smelling oils replaced rancid whale oil. The whales' luck did not last. Hunting was on again when it was discovered how to transform their oil for lighting and many other uses. Petroleum discovered in 1859 replaced progressively whale oil but hunting went on and became industrial in the XX century (harpoon gun and explosive harpoon (which explodes inside the whale) were invented in 1864 by Norway captain Svend Foyn). This nearly brought whales to extinction.
Today only Japan and Norway still hunt whales. Iceland however plans to resume whale hunting. Other countries have been trying to limit this hunt impact by establishing sanctuaries in their territorial waters. A sanctuary has also been established in the Pacific ocean south of the 40th degree latitude and in the Antarctic. Japan still hunt whales in it, legally, as being the only country having opposed the sanctuary. Eleven countries of the South Pacific have decided to establish a sanctuary in their Exclusive Economic Zone. They are Australia, Cook Islands, Fiji, French Polynesia, New Caledonia, New-Zealand, Niue, Papua New Guinea, Tonga, Samoa and Vanutatu. Two French territories then are participating in this fight against whales extinction. The French territory of Wallis and Futuna may join them.
Figures
In 1835 they were about 300 whalers hunting in Oceania. Their number grew to 550 10 years later.
Catches averaged then about 30 whales per ship..
A whale can yield from 6 to 15 t of oil and 200 to 500 kg of baleen.
At the end of XIX century whale population was less than one thousand in the South Pacific.
Page realized with the help of Alain Le Breüs using his research done for the "Musée de l'histoire maritime de Nouvelle-Calédonie, December 2002.