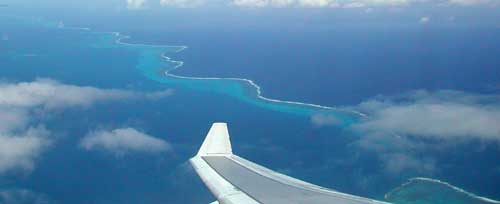 Picture of the West barrier reef. To its right the ocean, to its left the lagoon. The Grande Terre is not visible, it is further to the left. At this location the lagoon width is about 10 km.
The barrier reef is actually a double one extending on each side of the Grande Terre. They are two fairly long barrier reefs each 600 km in length.
They enclose a very large lagoon with a width varying from 5 to 15 km from the coasts to the reefs. North and South of Grande Terre the lagoon is bounded only by the barrier reefs and its width extends to 60 km or more. In the North this lagoon extends over 200 km up to the Grande Passage, near the Surprise islets. Lagoon depth rarely exceeds 40 metres. Its total area is about 20000 km2.
The "grand lagon" (light blue) is bounded by two coral barrier reefs along the East and West coasts of grande terre.
The other lagoon of the archipelago are the ones of Ouvéa atoll ( loyalty Is.) and isles Surprise atoll north of Grande terre.
Origin
The barrier reefs, parallel to the West coast and East coast of the Grande Terre are where west and east shores formerly were located. This land was thus much larger than it is today. The reefs were then coastal reefs. This was at the end of the Tertiary or the beginning of Quaternary. Sea level then rose, leading to the vertical built up of the coral reefs and flooding of low coastal lands creating the lagoon. The sea level uprise was a relative one since there was also a sinking of the island which actually bent along its length with a deeper sinking of its Northern and Southern ends. During Quaternary several variations of sea level occurred in relation to the ice ages. The last one named Würm, led 18000 years ago to a 130 m lowering of the sea level. Erosion then dug cañons in the lagoon deposits. The current reefs pass correspond with the former mouth of the rivers. Their depth can reach 80 m.
Threats
The lagoon water has temperatures varying from 19° to 27° celsius according to seasons. Salt content of the "Grand Lagon" is strongly inflenced by fresh water streams. Tropical cyclones can badly alter the lagoon balance with important masses of fresh and turbid water entering it and waves destroying coral reefs. However the system is well adapted to the climate and lagoon normal balance can regenerate fairly quickly.
Population increase, tourism and new fishing technics are direr threats and the lagoon is under surveillance.