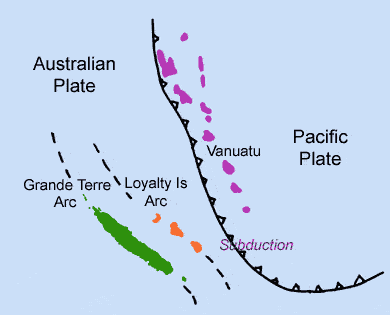 Grande Terre arc and Loyalty islands set on the Australian plate which sinks (subduction) under the pacific Plate West of Vanuatu.
Grande Terre and smaller islands extending northward and southward, are emerging parts of a folded arc (Grande Terre Arc on the map). East of this arc, Loyalty islands are on a volcanic arc (Loyalty Is. Arc).
They are set on the Australian Plate which drifts eastward under (subduction) the Pacific Plate. East of this subduction line Vanuatu is on another volcanic arc, the New-Hebrides Arc.
Grande Terre arc consists mostly in sedimentary, volcanic and ultrabasic rocks from Permian (225-280 millions years) to Tertiary (1,5 - 65 MY). Some geological formations in the main central ranges could be older than Permian but their age has not been established yet. The important group of ultrabasic rocks of Tertiary age relate to a mantle sheet (the mantle is a thick layer located under the Earth crust and above its core) overthrust on the other geological formations. Vast areas of volcanic rocks (basalt), on the West Coast, spatially associated with the ultrabasic rocks are remnants of an oceanic floor obducted before the overthrust of ultrabasics. Several ages of folding have been established. The last one occurred during Eocene to Oligocene (53-26 MA) and created the actual island. These folding and obductions are the result of colliding plates. These plate collisions generated temperatures and pressures which led to a transformation of sediments and volcanics. Such metamorphism has formed schists, micaschists and the interesting blue eclogite in the North of Grand Terre. They are glaucophane bearing rocks. This "blueschist" metamorphism requires very high pressure and is seldom occurring so extensively in other parts of the world.
In the Eastern Loyalty Arc, Loyalty islands are set upon volcanoes. Initially these volcanoes were emerged and surrounded by coral reefs. They progressively sunk in the ocean while coral kept growing up creating a coral ring which evolved in an atoll when the volcanic island sunk entirely under sea. The lagoons enclosed in the coral ring filled up with coral sediments and coral reefs. During Quaternary these filled up lagoons were upraised forming the main limestone islands. Ouvea island is still are part of a mostly sunk atoll. Southwards, the main islands 100 m uplift of Mare and Lifou is related to an upwarp of the Australian plate before its subduction under the Vanuatu archipelagoe.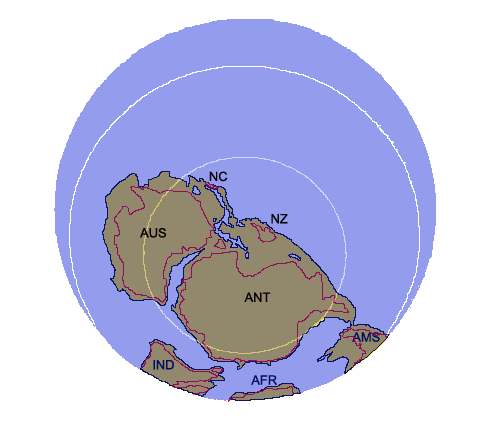 Up to the Cretaceous New Caledonia was part of the eastern margin of the Gondwana super-continent which, although starting to breakup, was still including Australia and Antarctica. New Caledonia oldest rock formations (from Permian to Jurassic and ante-Permian) come from this Gondwana continent and from intra-oceanic basins on its margin.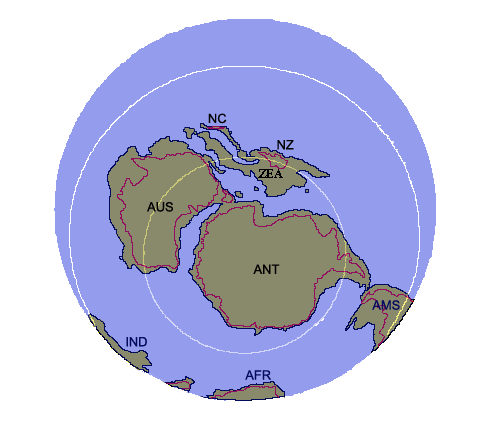 Cretaceous New Caledonia broke free from Gondwana about 85 millions years ago. Towards 70-65 MY ago at the end of Cretaceous times it was, with New Zealand, part of a land named Tasmantis or Zealandia. New Caledonia was separated from Australia by an extension of this land which is nowadays underwater and known as the Lord Howe ridge. From Zealandia only remain New Caledonia and New Zealand.
Having become an island, New Caledonia acted as a kind of Noha arch carrying a vegetation and some fauna elements from this time. This is how originated the unique endemic flora of New Caledonia and the endemism of a part of its fauna.