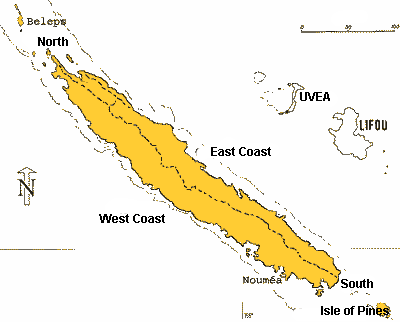 Grande Terre is a mountain arc which stretches over 500 km with a 50 to 60 km width. It is by far the largest island of the New Caledonia archipelago. It has strongly differentiated landscapes resulting from its complex geology.
The arc lies NW-SE but tradition is that the SW side of Grande Terre is named West Coast (côte Ouest) and its NE side, East Coast (côte Est). Its northern and southern ends are "the North" (le Nord) and "the South" (le Sud).
The central ridge is generally closer to the East Coast. The whole island has been tilted down to the West.
Raising seas following the end of last ice age have led to the buildup of barriers reefs on both coasts. The barrier reefs were originally coastal reefs along the last ice age shores. The northern and southern ends of the island are more deeply sunk into the sea as a result of a longitudinal bending of the island. This explains why barrier reefs are farther from the coasts in these areas. The numerous islands and islets at both ends correspond with partly sunk summits.
The large areas of ultrabasic rocks (terrains or massifs "miniers") add to the landscapes originality. They correspond to mountainous areas with vivid red lateritic soils covered by an endemic vegetation .
Contrasting East and West Coasts
West Coast has, at the base of high mountainous massifs of ultrabasic rocks covered by an endemic bush, an extensive grass and

niaoulis

savanna over low hills and flat areas. Savanna is a cattle ground. Mangroves occur often along shore. Bush fires occur nearly each year in the savanna.

The East Coast has steep slopes towards the sea. This coast is well exposed to the trade winds and has high mountains. Consequently it gets a much higher rainfall rains and has a lush vegetation contrasting with the dry savanna of the west coast.
North and South
| | |
| --- | --- |
| Each year the North savanna burns in this fairly dry area mainly at the northern end of the island. The picture shows the white bare hills between Poum and Tiabet and a bush fire. | Well exposed to the trade winds the South has also a high rainfall. The "Grand Sud" has a landscape of plateaus and mountains with vivid red lateritic soils, endemic bush and forests of unique plants species. Massifs "miniers" on the West Coast show similar landscapes. |