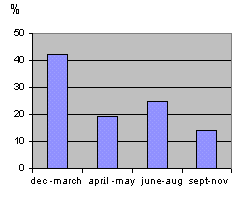 Seasonal rainfall at Noumea in % of average yearly rainfall (1072 mm)
Rainfall
Four seasons in New Caledonia according to rainfall.
Two dry seasons : the main dry season (September to November) and the small one (April-May)
Two rainy seasons : the main one (December-March) and the small one (June-August).
But beware of statistics simplifying, there are years with rainy dry seasons and years with dry wet seasons.
Rains occur more often during the night. This is a well organized climate.
On the main Island, rainfall varies a lot according to elevation and wind exposure. It rains mostly in the mountains on the East coast and in the South.
Average monthly temperatures in Noumea
Temperature
New Caledonia is located in the intertropical area but climate is never too hot nor too cold.
The hot season lasts 4 months from December to March.
Records :
cold: 2.8° in Bourail (17/6/65), 13.2° in Noumea (10/8/61).
heat: 38.8° in Poya (19/11/68), 36.8° in Noumea (25/1/86) - temperatures can be much hotter in European countries!
Wind

New Caledonia is a trade winds country.
In the southern hemisphere, trade winds blow from southeast and from east. They are frequent in New Caledonia (250 days per year in Noumea in average) and explain the mild climate. They are dream winds for sailing, wind surfing and kite surf.
But it is also a country of tropical cyclones.
Tropical cyclones (Hurricanes)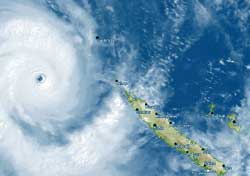 The satellite image (broadcasting by Météo France Nouvelle-Calédonie - get a larger image, 66 Ko) shows cyclone Erica on 13/3/2003 at 2 PM. Cyclone's eye is quite visible. Erica reached its maximum intensity 9 hours later, 160 km to the West of Grande Terre, with a pressure of 920 hPa at its center and average winds estimated at 215 km/h with 320 km/h gusts! Fortunately Erica weakened when touching New Caledonia on 14th, but winds still were at 150 km/h with 200 km/h gusts. Erica touched Grande Terre towards Koné then followed the West Coast. Erica eye crossed Noumea on 14th at noon.
New Caledonia is in the path of tropical cyclones. In 25 years, 6 cyclones crossed the archipelago in its southern part and 11 crossed its northern part.
Cyclones season is from December to March but cyclones were recorded in October and May and even a small depression was recorded in July 1973!
They bring violent winds but rarely over 200 km/h in gusts (cyclone "Fran" in Poum, 220 km/h gusts on 11/3/92). In Noumea wind speeds recorded did not exceed 160 km/h until Erica, on 14th March 2003, which broke the record with gusts over 200 km/h.
But what characterizes these cyclone is the intense rainfall, generally between 200 to 400 mm in 24 h.
Records : 214 mm in 4 hours in Dumbéa (cyclone "Coleen" 1969 ), 713 mm in 24 h at Goro (cyclone "Anne" 1988)

Sunshine
New Caledonia is a sunny country!
Average sunny time in New Caledonia is between 2200 et 2700 hours/year. In Koumac it's 2676 h/year or 7,4 h per day in average.
In Noumea there are 212 sunny days per year (>7h/j) and only 21 sunless days/year.
Beware of sunburns!
The sun is often nearly vertical above your head at noon (15 minutes exposure is enough to give painful sunburns to a white skin just arrived).