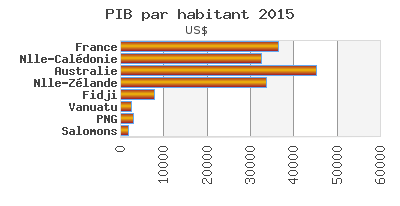 Gross National Income (GNI)
New Caledonia GNI is 25 978 M€ in 2009.
Its GNI per capita is 25 978 € or 36 370 US $ . This places New Caledonia among the 65 richest countries. France's GNI per capita is 29 322 € or 41 051 US $. In the region New Caledonia's GNI is even above New Zealand. Neighbour Vanuatu's GNI is 2526 $.
GNI increased by 2.4 % in 2009.


GNI breakdown
Services make the most important part of the GNI with 34 %. The public sector is about 1/5 of the GNI.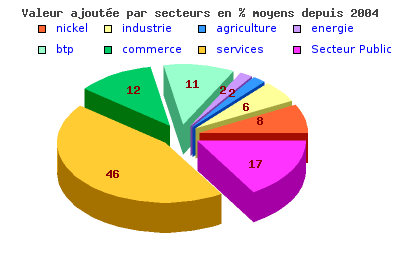 5 % comes from mines and metallurgy.
The agricultural sector generates hardly 4 %
Aid
In 2009 the French State has spent 1 148 M € in New Caledonia in particular for public servants salaries. This substantial aid makes 20 % of GNI. Aid amounts to 4 974 € per head. Aid is 10% of GNI in neighbouring Vanuatu and 2 % in Fiji.

Currency
The local currency is the CFP Francs which has a fixed rate to the Euro. Legally (décret of 1945) Franc CFP means Franc des Colonies Françaises du Pacifique despite giving since more pudical names such as the current Change Franc Pacifique.
Exchange Rates (fixed) : 100 CFP= 0,838 € , 1 € = 119,33 CFP - Use the € / CFP converter
Consumer price index variation : 0,00 % (source Isee).

Other indicators
Télécommunications
New Caledonia has a number of telephone lines, cellular phones and internet connection of an advanced country. However it would be placed among the less advanced countries with the high costs of telephone calls and of access to the Internet.
In 2010, number of lines and cellular phones was 111 for 100 people compared to 149 % in France and 153 % in Australia.
Unit cost for local calls is the highest in the region and one of the highest in the world. International calls costs are also very high. With VOIP telephone it is now possible to call free of charge Australia and New Zealand from France but not New Caledonia which is French territory.
36 % of the population had internet access in 2010. USA and Northern Europe have currently about 50% internet users. New Caledonia costs of ADSL Internet connections are high while connection speeds are low.
Yearly registration of vehicles
More than 100 000 cars are currently registered, that is one for 2.5 people. It is a rich country ratio. 13 439 new cars were registered in 2009.
Tourism
For the last 10 years tourism has stayed at some 100 000 visitors per year. Nearly a third of visitors come from France. They are mostly relatives to people living in New Caledonia or business visitors. Main cause of this tourism stagnation is the high cost of aerial transportation to New Caledonia. In the nearby Vanuatu which benefits from low cost carriers, tourism is strongly developing and has overtaken New Caledonia's in numbers of visitors.
Trade
Total imports reach 220 billion CFP (1 845 M€) against 81 billion CFP (677 M€) exports in 2009
This imbalance is permanent.
New Caledonia is foremost an exporter of nickel ores and nickel metallurgical products. Total value of these exports was 73 billion CFP (613 M€) in 2009 thus 91% of all exports.
The second exporting sector relates to sea products with 2 billion CFP (18 M€), or 3% of total exports. Shrimp farming makes the largest part of these exports.
Hindrances to economical development
New Caledonia economic development is built on its nickel wealth and on services. However isolation, distance and protectionist policies as well as its dependance on imported fuels can be important restraints to development.
Lack of competition in telecommunications and aerial transport key sectors. The resulting high costs are penalising businesses, increasing cost of living, adding to isolation and are the main cause of tourism stagnation.
Constraints to immigration of workers, from France mainly, should be applied soon. They result from accords de Nouméa and officially aim at helping local employment. However if inforced too strictly for political reasons (independance movements consider that immigration is a form of neocolonialism) such regulation might brake the economic dynamism resulting from immigration.
75 % of New Caledonia power production come from imported fossil fuels. Consequently power costs are strongly linked to oil prices. They can be penalising for the nickel smelting industry whose economics become tight or worse in times of low nickel prices or high oil prices. New Caledonia lacks so far an ambitious policy for developement of alternative power sources. There is a policy for developing wind power but no real incentives for solar power in a territory where good sunny places abound.